Stig Ottosson
Dynamisk Produktutveckling
Trevix, 1999, ISBN 91-630-8174-1. (328 sidor, 170*248 mm)


Under 80-talet läste jag all produktutvecklingslitteratur jag kunde. Inget stämde med mina egna erfarenheter från utveckling av nya produkter för främst bilindustrin.
Så började jag på IT-bolaget Prosolvia och träffade prof Stig Ottosson som var Prosolvias nyanställde forskningsdirektör. Stig lånade mig ett utdrag ur ett kompendium han skrivit, och här - till min oerhörda glädje- var det en text som precis harmonierade med mina erfarenheter. Det var Dynamisk Produkutveckling.
Kompendiet utvidgades och omarbetades och blev föreliggande bok, som jag läst med största behållning. Den har också varit kursbok när jag föreläst i produkutveckling vid högskolorna i Jönköping och Halmstad.
Det finns två läger: antingen hatar man boken för att man tycker den är ostrukturerad med för få rubriker och inte stämmer med det förlegade statiska synsättet (minns då Frank Zappas ord

ingen utveckling utan avvikelse

), eller också uppskattar man boken, och det gör de flesta, för dess rikedom på information och de ovärdeliga tumregler och metoder som ges. Du kan köpa boken genom www.tervix.se

Preston G. Smith, Donald G. Reinertsen:
Developing Products in Half the Time,
2nd ed., John Wiley & Sons, Inc, 1995, ISBN 0-471-29252-4. (298 pages, 160*235 mm)

Skall du bara köpa en bok om produktutveckling, så köp den här.
Det är helt enkelt en mycket bra bok som på 290 sidor får med det mesta om produktutveckling från identifierad affärsmöjlighet, ekonomiska analyser, strategier och metoder, teambuilding, organisering, processer, styrning, risk management, över högsta ledningens betydelse fram till och med produktion.
Språket är klart, ämnet väl strukturerat och texten är informationsrik. Jag har bara två invändningar 1/ sid 55 säger Preston/Reinertsen att man inte regelmässigt kan produktutveckla snabbt samtidigt som man utvecklar ny teknik - det kan man visst om man använder Dynamisk Produktutveckling!, och 2/ sid 243-49 behandlar concurrent engineering och innehåller ett antal felaktigheter.
Men totalt är ändå det här den kanske bästa bok du kan köpa.


Kevin Forsberg, Hal Mooz, Howard Cotterman
Visualizing Project Management, A Model for Business and Technical Success,
John Wiley & Sons, Inc, 2000, ISBN 0-471-35760-X.

Nästan allt om stora produktutvecklingsprojekt. Metoder, teori, processer. En del helt nya saker (verkligt användbara) som du inte hittar någon annanstans. Mycket läsvärt. Jag skattar den högt.
Om du bara tänker köpa två produktutvecklingsböcker så är det här nummer två.



Sten Jönsson:
Product Development - Work for Premium Values,
Liber/CBS Press, Kristianstad 2004, ISBN 91-47-07511-2, ISBN 87-630-0134-9.


Professor Sten Jönsson har tillsammans med sina medarbetare studerat ett nybilsprojekt vid Volvo Car Corporation och gjort intressanta iaktagelser och dragit spännande slutsatser.
Speciellt den konstruktivistbaserade disskusionen och resonemanget om hur man argumenterar i projekt där tempot är högt tyckte jag var mycket givande.
Texten från omslagets baksida beskriver boken på det här sättet.

"
This book is about how teams can keep value-driven product development together and focused in spite of complex organizational settings and changing brand values.

Through good leadership, and good team spirit, large projects can maintain their dynamism if people "talk their walk" and thereby coproduce a good story - a story good enough to tell the customer. We will see, increasingly, the story of how the new car model was developed as part of marketing efforts. The brand values, embedded in the story of the heroic efforts made by the project team to accomplish this valuable product, serve as criteria when members choose what solution to propose to the design problems at hand. The good story will visualise the brand values at the same time as it stages the product. The narrative can be a management tool!

Yes, we need the bureaucratic structures (target costing, cost reviews, quality assurance) to keep projects within reasonable limits, but those trappings do not create value, nor does an old specification of a product in a changing world. This book provides an implicit attack on the idea of gate systems so prevalent in the academic literature on product development.

Sten Jönsson

is professor of Scandinavian Management at GRI, a research institnte of the School of Economics and Commercial Law at Goteborg University. He was the editor of the Scandinavian Joumal of Management until recently, and he headed the Scandinavian Academy of Management during its first 7 years. He and his colleagues have been allowed to observe, directly, the management of product development projects at Volvo Car Corporation for several years."

Jim Highsmith
Agile Project Management: Creating Innovative Products,
Addison Wesley, 2004, Isbn: 0321219775, (277 pages, 186*231 mm)

Jim Higsmith is one of the founders of the Agile Alience, a consortium of software developers and software companies dedicated to the improvement of software development.
Agile methods are dynamic and are in their philosophy not very far from Dynamic Product Development (DPD). This text on Agile Project Management is a bit wordy, it lacks proper references and some of the non software examples feels a bit forced. But the ideas presented are interesting. Depending on your level of expertiese you will find many new statements and facts or just find affirmation for what you already knew.
If you are knew to the subject or just curious on Agile methods, read this book.


Robert G. Cooper
Product Leadership, Creating and Launching Superior New Products,
Persus Books, 1998, Cambridge Massachusetts, ISBN 0-7382-0010-7.
(314 pages, 149 * 228 mm)

Most larger industrial companies now have some kind of formal product development process in place. This is often a stage-and-gate process. The most common of these is Stage-Gate, a brain child of professors Cooper and Edgett.
The Stage-Gate (SG) process is a so called static process and ful of complications. SG is definitely not a process for the development of novel products. It is best suited for slight modifications, re-engineering, of mature products.
The omniprecens of SG motivates a study of this process, and who could better describe SG than Cooper, one of its creators.

Stig Ottosson
Dynamisk Projektverksamhet,
Trevix, 1999, ISBN 91-630-8175-X, (235 pages, 167*247 mm)

A book on project management, by Professor Stig Ottosson (in Swedish). The reader is presented with the view on project management as expressed in Dynamic Product Development (DPD). There are many interesting observations and facts presented. A good read.

Karl T. Ulrich, Steven D. Eppinger
Product Design and Development,
McGraw-Hill, Inc, 1995,
ISBN 0-07-065811-0. (289 pages 190*240 mm)

This book by Ulrich and Eppinger is somewhat of a reference for static, non-dynamic, design oriented product development, or re-engineering really, of mature products.
This static machine-like process is easy to teach to students and further, it is easy to comprehend for someone oblivious to the complexities of actually developing novel products. Maybe this is the reason for the popularity of this book as a text book at universities.
The book is well structured and there is information given that could benefit even someone opposed to the theory endorsed by the authors.

Stuart Pugh
Creating Innovative Products Using Total Design,
Addison-Wesley Publishing Company, 1996, ISBN 0-201-63485-6.
(544 pages, 190*240 mm)

This book, edited by Don Clausing and Ron Andrade is a compilation of the work of the late Stuart Pugh.
There is a clear emphasis on design over the much larger subject of product development. Stuart Pugh introduced the matrix for comparison of concepts that came to bear his name and he stressed the use of charts and diagrams akin to what is said to be typical of Toyota's product development.
Pugh designed a model for product development that is suitable for redesign at the most. He tried to connect to the quality movement. There is a lot of QfD, Design for X (DfX), house-of-quality, etc. Pugh called his theory Total Design.
Why read this book? Because of the discussion on engineering design and concept development, not for the product development discussion.


Dnald Reinertsen,
Managing the Design Factory (Hardcover), Jossey Bass, 2007,
ISBN-13: 978-0787995843, (304 pages, 231 x 155 x 30 mm)


Detta är Reinertsen's uppföljare till

Developing Product in Half the Time

. Det är lätt att tänka att den måste jag köpa för dden förra var så bra, men nej, avstå från det.
Visst finns det kloka ord och insikter, men inte så tätpackat som i förra boken.

Preston G. Smith,
Flexible Product Development: Building Agility for Changing Markets,
(Hardcover), Jossey Bass, 2007, ISBN-13: 978-0787995843,
(304 pages, 231 x 155 x 30 mm)

Detta är Dr Smiths uppföljare till

Developing Product in Half the Time

. I början av boken säger Smith att detta är den första bok som behandlar flexibel produktutveckling. Man blir både arg och ledsen när man läser det eftersom en sådan bok skrevs redan för 10 år sedan.
Det är

Dynamisk Produktutveckling, av prof Stig Ottosson,

som beskriver

Dynamic Product Development

(DPD). Kännetecknande för DPD är bland annat flexibilitet. Man kan kanske inte kräva att Smith skall känna till en bok skriven på svenska, men Ottossons bok bygger på ett flertal artiklar publicerade i ansedda vetenskapliga tidskrifter, så materialet har varit tillgängligt under lång tid. Desutom har grunderna för DPD legat ute på nätet (den här webbplatsen) under flera år.
För den som är kunnig och någorlunda väl påläst har Smiths senaste inte mycket att erbjuda. Den består mest av referat av andras böcker och i några fall artiklar. Men det som står i boken är inte fel (utom i något enstaka fall), så om du är novis inom produktutveckling så kan du med fördel läsa boken.
En sak måste jag ge Smith erkännande för, och det är att han påtalar att flexibilitet är viktigt därför att det inte alltid är

time-to-market

mätt från projektstart till marknads-introduktion som är avgörande utan tiden från fryst design till marknadsintroduktion som är avgörande.
Slutomdömmet blir att om du är väl påläst på dynamiska och flexibla metoder så klarar du dig utan denna bok. Men om du är novis eller väl insatt i enbart statiska metoder, såsom IPD, SE, CE, eller SG så gör du klokt i att köpa

Flexible Product Development

och läsa den noggrant och med eftertanke.


Steven Wheelwright & Kim Clark
Leading Product Development, The Senior Manager´s Guide to Creating and Shaping the Enterprise,
The Free Press, 1995, ISBN 0-02-934465-4, (176 pages, 242*160 mm)


Några anser att

det räcker med Wheelright & Clark

, det tycker inte jag. Men stort genomslag har de fått så bara av det skälet kan det vara intressant att läsa deras böcker.
Om man stöter på en

management-utgåva

som dessutom utlovas vara

avkortad

, då vet man att man till stor del slipper utfyllnadstext. Denna bok är ett sådant exempel. Du hittar en hel del nyttigheter. Klart läsvärd.

Steven Wheelwright & Kim Clark,
Revolutionizing Product Development, Quantum Leaps in Speed, Efficiency, and Quality,
The Free Press, 1992, ISBN 0-02-905515-6,

Wheelwrite & Clark were for a long time common references in product development literature. I don't think that they have very much to say to contemporary practitioners and researchers in the field.
A reason for acquiring and reading this book would be to educate yourself in classic product development theory.

David D. Ullman,
The Mechanical Design Process,
2nd ed, McGraw-Hill, 1997, ISBN 0-07-065756-4, (340 pages, 242*165 mm)

Ullmans bok används som textbok på flera högskolor och allt finns med, House of Quality, P-diagram, Gantt schema, flödesschema för designprocessen, appendix om materialegenskaper, normalfördelnng, säkerhetsfaktorer, och människans mått.
Men det vill sig inte riktigt och dessutom är det valda designexemplet en riktigt usel konstruktion. Intressant som exempel på vad en del studenter får lära sig om produktutveckling, men knappast mer.


Eric von Hippel,
Democratizing Innovation,
The MIT Press, 2005, ISBN 0-262-00274-4, (241 pages)

This book is availbale at http://web.mit.edu/evhippel/www/democ1.htm in the form of a pdf-file. You may download the book for non-commercial use, etc.
Eric von Hippel stresses the importance of the user in the innovation process and especially the use of lead user groups. Really worth a read through.

Gerhard Pahl & Wolfgang Beitz,
Engineering Design
(Ken Walace editor), Springer-Verlag, 1988, ISBN 0-85072-239-X,
(397 pages, 239*164 mm)

Många ser produktutveckling som en form av konstruktionsteknik. Om man vill åt den aspekten så bör man titta på Stuart Pug, Ulrich & Eppinger, David Ullman, och inte minst Pahl & Beitz numera klassiska verk

Konstruktionslehre

som utkom första gången 1977.
Pahl & Beitz behandlar vad de kallar systematisk konstruktion i kapitlen, Introduction, Fundamentals, The design process, Product planning and clarification of the task, Conceptual design, Embodiment design, Developing size ranges and modular products, Summary.
Klart värt en genomläsning om du är mekanist och konstruktör eller övergripande ansvarar för utveckling av fysiska produkter.

Kevin Forsberg, Hal Mooz, Howard Cotterman,
Visualizing Project Management, Models and Frameworks for Mastering Complex Systems,
John Wiley & Sons, 2005, ISBN-10: 0-471-64848-5. (454 pages, 240*193 mm)

Detta är tredje utgåvan av ovanstående bok. Nu på vitt papper istället för gult. Utökad, förbättrad, väl värd att läsas.

Ulla Sebestyén,
Multiprojektledning, skapa puls i produktutveckling med lean tänkande,
Parmatur, 2006, ISBN 91-631-7045-0, (253 pages, 239*169 mm)

Ulla Sebestyén,
Multiprojekt; ledning av portföljstyrda projekt,
Parmatur, 2005, ISBN 91-631-6577-5. (304 pages, 239*169 mm)


Ulla Sebestyén har skrivit en riktigt trevlig bok om projektplaneringsmetoder och budgetering. Man får en lättfattlig behandling av en stor mängd olika tekniker samlade på ett ställe.
Boken är idealisk för den som vill ha en textbok nästan av uppslagsbokskaraktär. Boken fungerar säkerligen bra, inte bara för den mer avancerade, utan även för nybörjaren.
Om något negativt ska sägas så är det att boken behandlar uteslutande projekt drivna av ett "need". Om man vill driva utvecklingsprojekt där drivkraften är ett "wish" eller "want" så gör man klokt i att komplettera med Mike Cohn's

Agile Estimating and Planning

som behandlar projektplanering ur ett "Agile-perspektiv". För inom

Agile Allience

, som är en sammanslutning av mjukvaruutvecklare som inte var nöjda med vattenfallsmetoden eller MS Project har man fritt från en tyngande historia kommit fram till metoder som ligger mycket nära DPD och därför mycket väl hanterar "wish" och "want" driven utveckling.
Ytterligare en negativ iakttagelse är att Ulla Sebestyén inte skiljer på kund och användare. Som vi vet är kunden viktigast för säljaren medan användaren är viktigast för produktutvecklaren. Men detta är ju inte primärt en produktutvecklingsbok utan en bok om projektplanering och budgetering och som sådan är den alldeles utmärkt.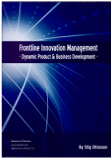 Stig Ottosson
Frontline Innovation Management
ISBN 978-91-977947-7-0, (285 pages 156*215 mm)

Denna bok av Professor Stig Ottosson kan du köpa online www.ottosson.biz .Boken ger modern teori om produktutveckling i vidare mening, dvs också affärsutveckling / marknadsfföring, försäljning och projektledning finns med i denna kunskapsspäckade bok.
Boken ekommenderas varmt!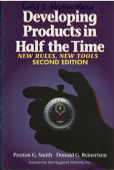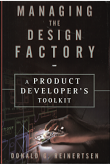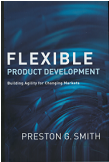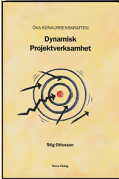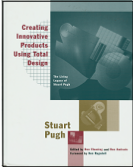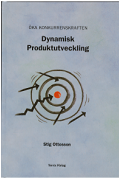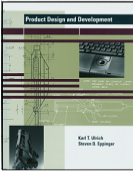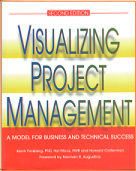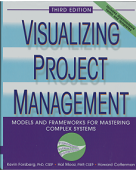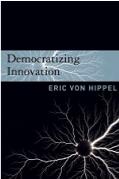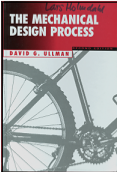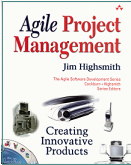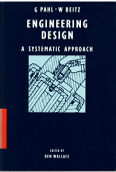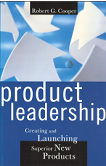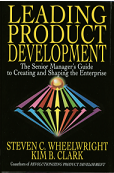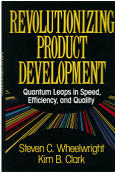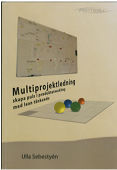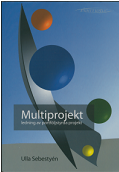 Mike Cohn,
Agile Estimating and Planning
(Paperback), Prentice Hall (10 Nov 2005), ISBN-13: 978- 0131479418,
(368 pages, 234*175 mm)

Some of this is old, much of it is relatively new. Good stuff. Geared towards agile methods, where the presented methods are mainstream thinking. A good read.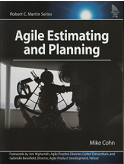 Alf Rehn
Farliga idéer: när det opassande tänkandet är din värdefullaste resurs, Bookhouse, 2010, ISBN 978-91-89388-53-6. (148 s, 220 x 167 x 9 mm)

När Sovjet sände upp Sputnik fick man en chock i USA. Hade man halkat efter? Brast det i kreativitet? Detta ledde till att många böcker om produktutveckling före 1975 handlade om kreativitet. Sedan blev det tyst. Förutom enstaka verk om "lateralt tänkande" o dyl.
Men även om kreativitetsövningar och de flesta kreativitetsmetoder är värdelösa, rentav skadliga, så är kreativ förmåga nyckeln till framgång i produktutveckling.
Alf Rehn ger i "Farliga idéer" en delvis annorlunda bild av kreativitet. Många sanningar serveras och många insiktfulla iaktagelser och slutledningar. Språket är klart, kortfattat och rakt på. Köp och läs!
Boken rekommenderas varmt!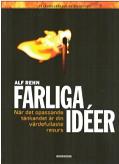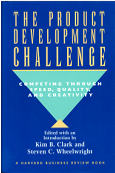 Kim Clark & Steven Wheelwright,
The Product Development Cahallenge: competing through speed , quality, and creativity,
Harvard Business review,1994, ISBN 0-87584-609-2, (431 pages, 242 x 163 x 37 mm)

This is an old text now and much less relevant than it used to be. The authors make a number of QFD. The thinking is linear and sequential like the ideas that make up Integrated Product Development. Leafing through this book today one feels like an archeologist digging old remnants. Still, there are some good ideas here. Should you read it, probably not.